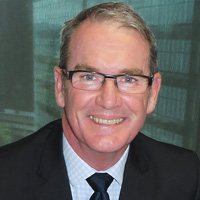 Brendan Moon,Chief Executive Officer, Queensland Reconstruction Authority
Brendan Moon was appointed as the Chief Executive Officer of the Queensland Reconstruction Authority (QRA) in June 2016.
He has been an integral part of the QRA since May 2011, and was Acting Chief Executive Officer from November 2015.
Brendan is an accomplished senior executive and has substantial experience across the public and private sector.
He has led a multi-disciplinary team in the assessment, delivery and acquittal of a reconstruction program valued at more than $13 billion administered by the Queensland Reconstruction Authority.
Brendan has helped improve the resilience of our state's infrastructure having managed the joint Commonwealth-State $80 million Betterment Fund following natural disasters in 2013 and the delivery of the $20 million Betterment Fund that was established following Tropical Cyclone Marcia last year.
He received a highly commended award for Project Manager of the Year at the 2015 Australian Institute of Project Management awards.
Brendan previously held a senior management role with the Wyaralong Dam Alliance, which at the time was delivering the largest vegetation and carbon offset project in Queensland.
Brendan is a graduate of the University of Queensland.
---