Why You Should Attend
Be Inspired: Hear motivating talks from exceptional keynote speakers
Be Connected: Develop links with leaders, specialists and industry peers in floodplain risk management
Be Smarter: Learn new skills and strategies from concurrent sessions and hands-on pre-conference workshops
Be Innovative: Be exposed to emerging and state-of-the-art products on display throughout the trade exhibition
Be National: Take on a nation-wide perspective by learning from other States and Territories
Be Social: Make meaningful connections with like-minded industry professionals at networking functions.

Key Dates
Abstracts Open:
Available Now
Closing Date for Abstracts:
Friday, 27th November 2020
Registration Available:
Available Now
Presenter Notifications:
Friday, 29th January 2021
Peer Review Submission Deadline:
Friday, 19th March 2021
Early & Author Registration Deadline:
Friday 16th April 2021
Full Paper Submission (not being peer reviewed):
Friday, 30th April 2021

Who Should Attend
Commonwealth, State and Local Government Representatives
Research Organisations
Education Providers
Consultants
Engineers
Land-Use Planners
Architects
Emergency Responders
Students 
Community Volunteer Organisations
Equipment Providers
The Online Conference
The FMA Conference has been held annually for since 1961 and is the most respected flood risk management event held in Australia.
The 2021 Online Conference marks the 60th Anniversary of FMA, and will celebrate the history of the organisation, the Members that make the network possible, and the phenomenal advances in flood risk management.
The impacts of COVID-19 with changing government public health regulations, unpredictable state border closures, lockdowns and employer limitations on professional travel make it difficult to commit to a face to face Conference. Therefore, the 2021 FMA National Conference will be held online from Wednesday 26th to Friday 28th May 2021, with a pre-conference workshop on Tuesday 25th May 2021.
This year's theme is "Essential Knowledge for a Flood Resilient Future", will focus on the latest developments and achievements in flood and emergency management to assist in identifying, planning for, and managing flood risks, and building disaster resilient communities.
Attendees will hear motivational and innovative presentations from outstanding keynote speakers and industry professionals and can take part in an interactive online pre-conference workshop.
The Online Conference is for anyone interested in making our communities more flood safe. It will bring together flood professionals and community members with interests in floodplain risk management. Attendees will include Commonwealth, State and Local Government representatives, research organisations and education providers as well as consultants, engineers, land-use planners, emergency responders and community volunteer organisations.
The Online Conference will be a way to maintain engagement with the industry, network, share ideas, discuss industry topics, and have no concerns about border closures or quarantine costs.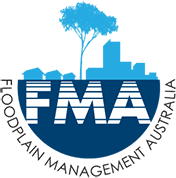 About Floodplain Management Australia
2021 is an important year for the FMA as it marks the "60th Anniversary" of its establishment. FMA, formerly the Floodplain Management Association and before that the Flood Mitigation Authorities of NSW, was established in 1961 when four coastal flood mitigation authorities met at the Maitland Town Hall to share ideas and technical solutions to flooding, and to explore avenues for mutual assistance.
Since that time the network has expanded nationally to include over 160 Members from all avenues of flood risk management in Australia and abroad and is the key voice for FRM in the nation. FMA is committed to promoting wise floodplain development and helping reduce the risks of flooding to life and property.
FMA is a network of trusted flood professionals – engineers, land use planners, technicians and decision makers – dedicated to working with all states and territories to raise awareness and the priority of flooding. The association has links to flood related organisations in the United States, the United Kingdom, the Netherlands and New Zealand.
FMA promotes wise land use planning principles to guide appropriate development within floodplain areas. We support programs which manage flood risks and the impact of flooding and reduce private and public flood losses.
We represent Members' interests at State, Territory and Commonwealth Government levels, promote public awareness of flood issues, support flood education programs and improve the knowledge and skills of floodplain management practitioners.
In 2009, in partnership with the Department of Planning, Industry and Environment (formerly known as the Office of Environment and Heritage) and the University of Technology Sydney we initiated Australia's only industry-based flood risk management course tailored to the needs of technical and land use planning staff and elected Council representatives.
FMA has Members in NSW, Queensland, ACT, Victoria, Tasmania and South Australia.
FMA Conference Testimonials
Unparalleled flood learning and networking opportunity in Australia
Fantastic opportunity to be aware of the latest technologies in floodplain mitigation and modeling
Outstanding mix of papers and attendance from a range of organisations and professions
The networking was great, the discussions around presentations were often as informative as the presentations
A wide variety of topics covered. That is, there's something for everyone
An appreciation for what is happening at a national level. 
The strength of the conference is the quality of presenter it attracts
The vibe was good – easy-going people, eager to learn and ask questions.
Diverse program to get people to think outside their own role
Conference Commences in...
Twitter Feed :
#FMAConf21
FMA Papers & Presentations
2017 Papers and Presentations
Previous FMA Papers and Presentations
Previous papers and presentations will be available soon.